Discover more from Attorney Bobbie Anne Cox... Knowledge is power!
Having the correct information is not enough... You must understand it and know how to use it. That is the key. Knowledge = power
Over 10,000 subscribers
In my Substack article last week, I announced that I am the spokesperson for a new organization called, Stop NY Corruption. If you missed that article, you can read it here, but in general, Stop NY Corruption is a non-partisan organization that is dedicated to raising awareness about corrution, defending the Constitution, and ensuring that the will of the people prevails.
Right now, our focus is raising awareness about the corrupt Albany politicians' latest attack on your sacred right to VOTE. Here in New York, our right to vote (also known as suffrage) is so crucial a right, that it is listed in our state Constitution second only to our Bill of Rights. We control our government through that powerful right of voting which allows us to elect our representatives in the law-making process.
Attorney Bobbie Anne Cox... Knowledge is power! is a reader-supported publication. To receive new posts and support my work, consider becoming a free or paid subscriber.
As I explained in detail in my prior article, the power-hungry politicians are trying to manipulate and dilute your vote by illegally trying to re-draw the Congressional maps for next year's 2024 election. The bird's eye view is this… Here in New York, we re-draw (or re-district) our voting map lines every 10 years in accordance with the census. The census last occurred in 2020, and we re-drew the maps in accordance therewith in 2021/2022. After not following proper procedure, the super-majority Democrat-lead NYS Legislature drew maps in violation of the Constitution. They were sued, and their maps were thrown out by the Court of Appeals (our state's highest court). Those maps were supposed to stay in place until the next census in 2030.
But, the corrupt Albany elites brought a lawsuit earlier this year to try to get another bite of the apple. You see, the party in charge (the Dems) didn't like the fact that they lost five seats to the Republicans in the 2022 election, because that resulted in the House of Representatives in Congress going from Dem-controlled to now Republican- controlled. Uh oh! We can't have that, can we? I mean it's not enough that the US Senate, and the White House, and the Attorney General's office are all controlled by Democrats. No, no. They need to control the House of Representatives too! They want one-party rule on steroids (just like we have here in New York state). When one party has total control, they go totally out of control! To get a better understanding of how toxic one-party rule has been here in New York these past 5 years, take a look at my article I wrote about it earlier this year.
Interestingly, the trial court that heard this blatant power-grab case ruled against the Democrats and said they couldn't get another bite at the apple. So, of course, the Dems appealed, and the Appellate Division Third Department reversed that lower court decision and said the maps would have to be re-drawn for the 2024 election! So now the case is in the Court of Appeals, and the fate of the control of the House of Representatives will likely be decided by the outcome of this lawsuit. The Court will hear oral arguments on the case Wednesday, November 15th at 1pm. We will livestream the hearing on our website. Sign up to get the link at: https://stopnycorruption.com/live-stream/
---
To raise awareness about this crucial issue, I went on a whirlwind press tour last Friday, and I was joined in Buffalo and then in Rochester by former Congressman Lee Zeldin (who was also the 2022 Republican gubernatorial candidate against Kathy Hochul), together with Congresswoman Claudia Tenney, and then Congressman Brandon Williams joined us at our final stop in Syracuse.
You can watch our Rochester press conference here.
Below is a copy of the press release that was sent out on Friday which includes some quotes from our statements given throughout the day:
FOR IMMEDIATE RELEASE:
November 10, 2023
Stop NY Corruption Barnstorms Upstate
With Lee Zeldin, U.S. Reps Tenney & Williams
Concerned Citizens Join Them as They Warn New Yorkers
About a Corrupt Redistricting Scam!
News Conferences Held in Buffalo, Rochester & Syracuse
The new statewide organization, Stop NY Corruption (SNYC), held news conferences in three upstate media markets on Friday to educate New Yorkers about a shameless and corrupt attempt to redraw the districts of the state's congressional delegation. The New York State Court of Appeals will hear the case on Wednesday, November 15th, in Buffalo.
Stop NY Corruption's spokesperson, Bobbie Anne Cox, a Westchester County based attorney who specializes in constitutional law was joined by Congresswoman Claudia Tenney (NY-24) and former congressman and candidate for governor, Lee Zeldin at the Buffalo and Rochester news conferences. The trio was joined by Congressman Brandon Williams (NY-22) at the Syracuse news conference.
The legal action has been taken by the Elias Group, a Washington, DC law firm, on behalf of the Democrat Congressional Campaign Committee (DCCC) and calls for the Court of Appeals to throw out the current congressional districts that were drawn just last year by a court appointed non-partisan Special Master.
To view the Rochester news conference, click here.
Key Take-Aways:
Bobbie Anne Cox said, "This is not a partisan issue. This is not about left or right. This is not about being a Republican or being a Democrat. This is about the constitution. This is about the will of the people of New York, and what's going on in Albany is outrageous."
Lee Zeldin said, "Twice, statewide voters of all parties came together to make it clear that we do not want hyper-partisan gerrymandering done by the state legislature."
Rep. Claudia Tenney said, "And now, the Democrats are suing to overturn the will of the people in this very important lawsuit that will be heard by the (NYS) Court of Appeals."
Rep. Brandon Williams said, "This issue of gerrymandering is elected officials, politicians, career politicians, trying to take that power away from the citizens."
To view the Stop NY Corruption website, click here.
Stop NY Corruption, a 501(c)(4), is a statewide organization representing civic-minded New Yorkers opposed to the corrupt act of gerrymandering and dedicated to educating the public about the redistricting process, and preserving competitive elections, civil rights and democracy in New York.
#    #    #
Here are some photos from the day…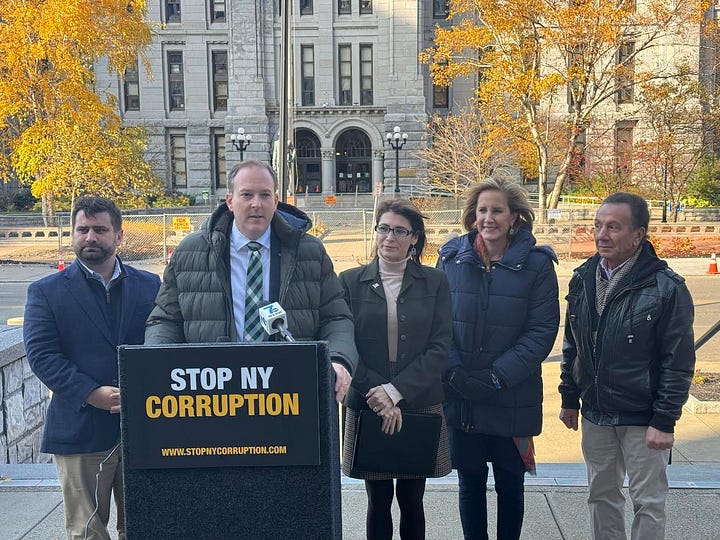 ---
If you'd like more details about this crucial lawsuit and the details leading up to this fight for the House of Representatives, you can check out some of my recent interviews:
---
Here is what you can do to help…
-        Go to our website and sign our petition at www.stopnycorruption.com
-        Share this article, and our website, on your social media
-        The Court of Appeals will hear this case on 11/15/23. Spread the word, and watch the hearings live on our website at www.stopnycorruption.com
-        Follow us on social media: Twitter
Join me in sending a message to corrupt politicians that thumbing their noses at the Constitution and the will of the people will not be tolerated!
---
Follow Me on Social Media:
On Substack… AttorneyCox.Substack.com
On Twitter… @Attorney_Cox
On Instagram
---
Inspirational Quote:
Attorney Bobbie Anne Cox... Knowledge is power! is a reader-supported publication. To receive new posts and support my work, consider becoming a free or paid subscriber.